02
Mar
The passion of aïkido - the art of peace
Last september I met aïkido... And it was a flash ! A revelation... Why couldn't I discover this art before ? It brings me so much joy ... I feel as if I walked throughout my life on the wrong path, and as if today, I was finally on the right one !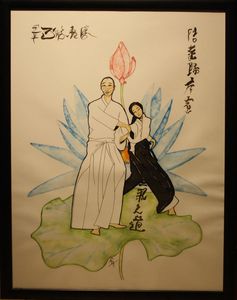 Now, I'm able to understand so many trivial events... They were there only to lead me towards the right direction, the right decision : practising this beautiful and subtle art ! Today, I know why I could easily be supple. Why, for instance, I liked yoga, but not that much, why I found it a little too static... I understand why, when I was a child or a teenager, I was able to run so fast, but only when it was really worth it, or why as an adult, until very recently, I loved cross-country skiing so much, and then why I lost the pleasure to practice it. I think I was looking for the right sport for me, but couldn't find it... I think that I needed to move, but at the same time, to feed my soul, my head and my heart... I needed to be proud of me, but above all, not to be bored, and to have spiritual and simple relationships thanks to my activity...
I also understand why very early I thought that my parents, more particularly my father, shouldn't have restricted me to an intellectual role. They didn't refuse me practising sports, but they subtly discouraged me from practising any other sports than intellectual ones... I was very good at it, but gradually I began to feel a serious lack... The joy was not complete...
I'm an idealist and I couldn't foresee a world without solidarity, spirituality, friendship... Above all, without a collaborative direction and philosophy. I was not attracted by religions, but it didn't mean that spirituality was not important to me. On the contrary ! Simply I just needed a distant consensus, just to preserve my freedom and the others.
I understood recently, thanks to two of my teachers, why I was so moved by the artistic side of aïkido...It is really a complete and spiritual art...
Aïkido fulfills all the cravings I had, without knowing it...
15/02/11